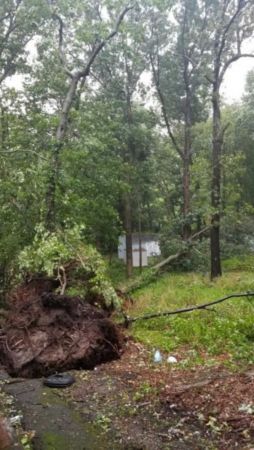 What did we learn from Isaias
First let's look at the up coming Hurricane season. As of Aug 6th 2020, there have already been 9 named storms. On average there are 12 named storms, 6 hurricanes and 3 major Category 3 hurricanes. The latest of course being Isaias NOAA predicts that this season could obliterate those numbers with 19-25 named storms, 7-11 hurricanes and 6 major hurricanes. This season runs until the end of Nov with the peak being around Sept. 10th.  
YIKES
Let's learn from this and be ready.
1.       Generator:  If at all possible, invest in a generator and have it hard wired into your electric panel so it automatically kicks on in a power outage. Please don't attempt to do this yourself. Hire an electrician to do it right. There are serious problems that could arise and by doing it yourself you could void your insurance coverage. See if they can hook up your heating and/or cooling system. It's unlikely they can hook up your well pump, more on that later.   If you don't hard wire it make sure you have the correct extension cords to run your essential items. Number one is run your refrigerator, next is lights, next is to charge phones and computers. You might be able to hook up a TV and DVD/gaming system depending on your generator.
2.       Gas cans ready to fill for the generator: You should have 2-5 cans ready. Maybe more if you have to travel long distance to find gas. See how long your generator runs on a can and plan on having 24-36 hours ready to go. Nothing worse than having to make a gas run during the storm or right after when the trees are still down.  Same goes for propane tanks,
3.       Generator set up: Away from the house since it omits CO2 that can kill. Also covered if possible. Use a patio umbrella or a patio table. Set it up b4 the storm hits.
4.       ICE: Get dry ice for your freezer. Ice Factory in Landing NJ for example. Get coolers ready. Have Ziploc bags ready to make ice packs. Get large bags of ice and split it into the smaller bags. This way when they melt you don't soak everything in the cooler and you have bags of drinkable water ready to go. You can put a bag on each shelf of the fridge, this only works for 24-48 hours then you must move it to a smaller cooler.
5.       Water: Before the storm hits fill up jugs of water from your tap. LOTS if you have well water. You will need almost a gallon to flush the toilet. Fill your bathtub if possible, to do safely with no small kids around. Also fill a top loading washing machine. No need to buy water for the toilets If you plan and prepare in advance.
6.       Toilets: Speaking of toilets remember this If it's yellow let it mellow if its poo flush it through. Put plastic bags by every toilet for all the paper. After wiping put paper in the bag. You need lots of water to properly flush the paper and since you are doing that manually cut back on the paper. Perfect time to use up all those bags under the kitchen sink. Trust me you don't want to back up your toilet at this time.
7.       Cleaning: If you have the time before the storm hits, do ALL of the dishes and clothing washing. Have an empty dishwasher to load during the days after. Have water in the washer if possible. Have bottles of water ready to do some dishes and a new sponge will be helpful to clean in cold water.
8.       Cooking: If possible have some sort of propane cooking available. Grills are great for this. Make sure you have a full tank. Don't bring a grill into the house, again CO2 gases.  Wait until after the storm to grill. Best bet is to do cold food, salads, cold cuts, sandwiches and cereal. But you may want to cook off the food in your fridge or freezer to have ready to eat.
9.       Flashlights and lanterns: Make sure everyone has their own working flashlight. Lanterns are great for common areas, but they eat batteries, Battery driven candles are great for bedsides. You can even get ones that turn themselves off. Teach everyone that if you shoot the flashlight to the ceiling it lights up the room. Invest in solar lights. Most of them will charge all day and give you 5-6 hours of light. String them up and make it festive.
10.   Personal care: If possible, everyone take a shower b4 the storm hits. Invest in full body wipes or baby wipes. Remember don't flush them, they go into the plastic bag already in the bathroom. Dry shampoo helps. Have water ready to wash hands and masks.
11.   Have a bag packed: Worst case scenario you will need to evacuate. Have a bag packed. 2-3 changes of clothes, 6-7 sets underwear and socks if needed. 2-3 pairs of shoes including some sort of water-resistant flip flop. Medications for at least a week. Better to just take all the original pill containers if possible. Deodorant and hair care, soap, and towel. And comfort toy. Computer bag with charging cords. Same for all phones make sure to bring cords and plugs. Insurance information and vital papers if it's really bad. You can also store important papers etc in the empty dishwasher. It's watertight. If you are leaving before the power is out place a quarter on some ice in the fridge so when you return if it's not on top you know that it melted and re-froze so it's not safe to eat anything from the refrigerator.  
12.   Attitude: This is the hardest one of all. Try to make it an adventure. If you are scared it will transfer over to everyone. Same if you have positive energy you can get everyone involved and turn it in to skills training. Get games ready to play. Get snacks ready. Being prepared will help ease everyone's mind and cut back on the stress on what is going to be a stressful time.  Stay safe, Keep yourself updated on the progress of the storm.
And call us a Pavolony Construction to help make your house your home again.